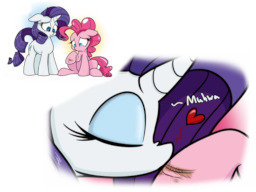 Source
Rarity helps Pinkie out by kissing her boo-boo. This is totally okay and not awkward.
Warning: Shipping. So much shipping.
---
Cover image (and inspiration) taken from this comic by bellsPurgebells.
Why not also try This fic's sister-story by Twinkletail, which was inspired by the same reddit thread and posted at the same time?
Chapters (1)