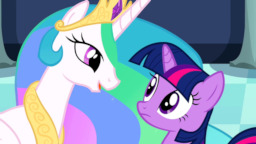 Twilight writes to Princess Celestia for an explanation of an insidious issue Shining Armor told her about... but she ends up finding a secret that will change her life forever.
Short and thoughtful, with just a little pinch of humor to liven things up.
Simulcast en Espaniol
Many thanks to my proofreaders and pre-readers, Kolth, Sky Warden, and Colt, all from MLP Forums.
Chapters (3)