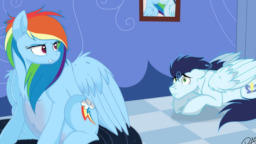 Source
Pregnancy is hard. Not just for the mares, but for the stallions as well.
After one mishap, what started off as a romantic night for Rainbow Dash and Soarin' will shape the rest of their lives forever.
That'd be all fine and dandy for Rainbow Dash, but Soarin' isn't making things any better for himself when he keeps uttering the same word that annoys Rainbow to no end.
"Sorry", and its other variation, "I'm sorry."
---
Written for PimpArtist101's contest--which this story WON!
Cover by PimpArtist101
Chapters (1)