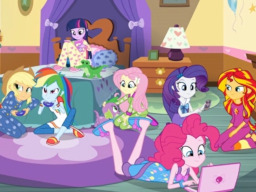 In this story, Pinkie Pie invites her friends over for a sleepover. Her friends, obviously, say yes. When her friends look through Rainbow Dash's phone, they find out about something interesting.
Edited by one of my best friends in the whole world, (and my waifu~) ZuZuSky21, before I added some finishing touches.
Like we'd say here in the Netherlands: "Veel plezier met lezen!" or just in English: "Enjoy reading!"
THIS IS A REMAKE OF THE STORY: THE PINK BRA. A STORY I MADE A WHILE AGO. IF YOU ARE INTERESTED IN READING THE OLD VERSION, CLICK HERE. IT'S QUITE DIFFERENT FROM THIS ONE.
Tagged sex because of indications of something sexual happening afterwards. There is no sex or any other sexual themes in this story itself.
~~~~~~~~~~~~~~~~~~~
Chapters (1)