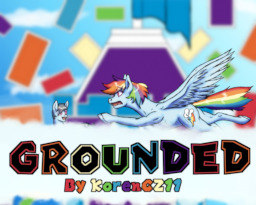 As Ponyville charges head first into modernity, Rainbow Dash lives a quiet life in the clouds with her husband Soarin, and her son Prism. Famous, retired, still the record holder of nearly everything the Wonderbolts had to offer, Rainbow has achieved all her life's dreams and more.
But, for some reason, she's still dreaming of something. A nameless, faceless colt she sees in an endless sky with a single defining trait to him: her eyes. Who is he? Why does he keep showing up? What does it mean? She doesn't know yet, but she's determined to find out.
The problem with knowledge, however, is that it always comes with a price.
---
Set in my 'Bright Future' universe which diverges from canon after season 4.
---
Edited by the lovely Comma typer.
Chapters (7)