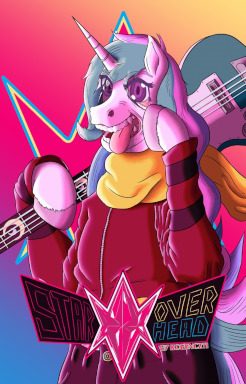 Source
It's tough to be young when growing up is all you're after.
You'll always want to reach for the sky, for that great big light above your head,
But as you are now, you just can't do it yet.
So you bide your time as the world opens up around you,
Watching and waiting, for that Star Overhead.
---
Growing up is hard.
However, thirteen-year-old filly Twilight Sparkle doesn't quite understand that yet. Her life is a dull treadmill she can't seem to get off of, as everything around her is shrouded by fog. Even when she looks up, the blue skies in Underhoof are always the same. Though, that all changes when she makes a simple wish upon a star at her best friend's request. Life being hard is beaten into her head (quite literally) by a new force that changes everything in an electric and explosive fashion.
Star Overhead is a modern music video set to the soundtrack of life and sung by a filly who doesn't understand the words. Things are unclear, the world won't explain itself to you, and nopony understands anything.
The blue skies in Underhoof are always the same.
This story is heavily inspired by Fooly Cooly. For the best experience, please listen to the songs at the beginning of each chapter in the author's notes.
---
Chapters (12)