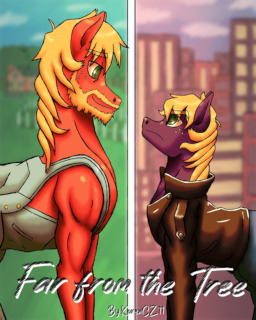 Source
When I was little, life was oh so simple. The world was bright, the sky was clear, my family was all here. But the changing seasons would take everything I held dear, and once it was gone, I wondered when I'd disappear. Things would turn for the better, things would turn for the worse, and when the weight was all too much, I couldn't bear it. Just as things change, oh so much stays the same.
---
Nineteen years after Luna was freed and fourteen years after Princess Twilight rose to power and began to modernize Equestria, Big Mac has finally made it on his own. Enough land he can work on his own, a loving wife, two great kids. However, as Granny used to say, when it rains, it pours.
One terrible truth after another, Mac learns of a life he may have ruined without ever being a part of it. In an effort to fulfill his legacy and pass on his heritage, Mac does what a stallion does and tries to fix it.
---
Set in my 'Bright Future' universe which diverges from canon after season 4.
---
Edited by the lovely Comma typer.
Chapters (6)