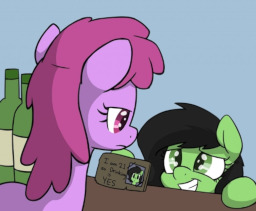 Y'know, I was once an average guy. A completely normal male human being. Sure I had my oddities but who doesn't, right? Then I woke up in Equestria after one too many shots of whiskey at 3AM whilst watching some random ass anime.
Now that in itself sounds fucking weird but that's not even the full story. Somehow good old reliable purple smart managed to not only change my species and my gender but also my age. Now I'm stuck with a lavender coated princess who has become my 'caretaker' and I'm being forced to go to school!
I still can't believe this isn't some crazy drug trip. Well, whatever - if this is a drug trip then I'm gonna make sure this will be the best drug trip of my life. So take a look into my new personal life and prepare to see the horrors that I'll bring to this hippy horse land.
[Sex Tag for references and innuendos - there will be no clop.]
Chapters (1)