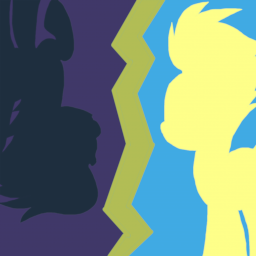 He was expendable, they thought. There was no honor, no code of morals, no sense of team. Soarin wasn't going to stand around and be treated like this, he was going to stand up for himself the only way Spitfire would understand: Leaving the Wonderbolts behind.
Now teamless, Soarin decides to run home to the only pony in Equestria that would never leave him in the dust; His little sister, Nightshade, captain of the rival team, the Shadowbolts.
A co-written project by Uria the Sacred Beast and myself! An alternate take on the ending of "Rainbow Falls" in which Soarin decides that an "I'm sorry" from his neglectful captain and teammate just isn't enough.
Using the basis of the Shadowbolts by PoorYorick/YoorPorick
EDIT (5/24): A certain Mr. Uria has graduated to my co-writer. Thanks and thanks again, Uria!
Chapters (12)