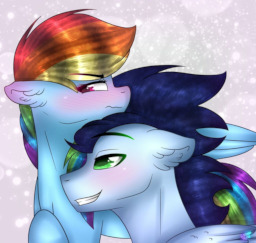 This story is a sequel to Clip and Crash
---
Sequel to Enigmatic Otaku's one-shot 'Clip and Crash'.
Soarin and Rainbow Dash are heading to Rainbow's house for some extra practice, but she just can't keep her mouth shut. He intends to 'punish' her anyway at her house but her teasing is wearing out his patience.
---
The art is not mine, I just found it on Pinterest.
Finally, a big thank you to Helping Hoof for editing and pre-reading this.
Chapters (1)