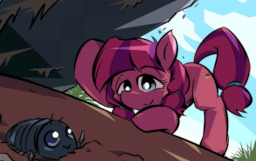 Source
Big Mac is a strong stallion, no doubt about that, possibly even the strongest pony around.
However, that changes when he meets a filly by the name of Lily Longsocks, whose raw strength might even rival his own.
It is from this filly that Big Mac will learn where a stallion truly draws his strength.
---
Featured on Equestria Daily!
Proofread by Flutterpriest and ChappedPenguinLips.
Cover by tyuubatu
Chapters (1)