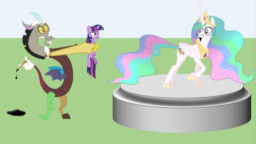 Discord is brought to Ponyville to be reformed. As a safety precaution, he is deprived of his magic before his release. Naturally, he is upset by this, but...
No one thought that the powerless spirit of chaos would actually run away! Twilight Sparkle won't let him get a way with it!
A word of warning: If you read for the Twilight x Discord, be aware that the buildup to actual romance in this story is extremely long. You will have to read for a long time before receiving gratification romance-wise. However, once it is established, the romance will be ongoing from then on.
Chapters (28)