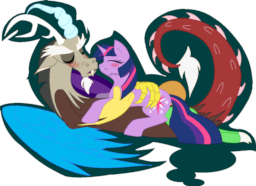 After the Discord incident, Twilight is feeling guilty for sealing Discord in stone.And, she is growing to have romantic feelings towards him, but they are the exact opposites of each other.
But Twilight wants to make it up to him and tries to help, unknown to her, the Spirit of Chaos and Disharmony is habouring romantic feelings for her too.
So will they both admit their feelings as they slowly become friends and maybe become more?
Mixing certain events here and there to make it more interesting and you may find out more secrets about the main pairing soon!
Chapters (4)