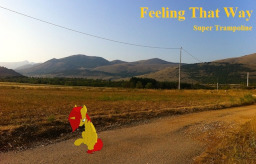 Source
2nd Person
Drama
Slice of Life
Tragedy
---
You're drenched in sweat and ennui. She's fighting the enemy, and you're fighting depression. Stuck forever in a nowhere town, you try to rise above inertia, but you only end up feeling useless. You're always feeling that way.
"Feeling That Way"/"Anytime" are two popular Journey songs from their breakout album Infinity, often played back to back on the radio.
---
Highly recommended by Present Perfect!
Featured in the Royal Canterlot Library!
---
Background: source
Pony: source