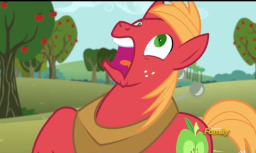 Source
What happened to Big Mac after he ran off after Starlight Glimmer had made the stallion known for silence unable to stop? Cursed to say everything he had always held inside, how will Mac survive a day as every thought he has he says out loud. What will Mac do when he runs into ponies that he had always wanted to say something to, but held his tongue? Will Ponyville survive a uncensored Big Mac?
Just a fun little story I came up with as I have become completely blocked on Auction and Ghost Rider again. Also a early birthday gift to the ever so awesome Jake the Army Guy. Thanks go to Arbarano, Chief Maximus,Docontra, Jake the Army Guy, and The Masked Ferret for all the edits.
Thanks also goes out to Golden Vision and again Chief Maximus for having to deal with my ranting and belly aching.
You can now listen to this story, from two different readers!
Neighrator Pony version can be found here
DRWolf version can be found here
Featured 5/3/16
Chapters (1)