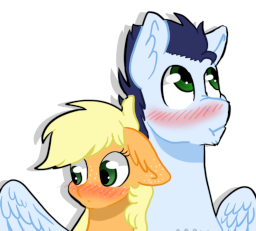 Source
Soarin is considered by many to be a Play Colt, a stallion able to get any mare he so desired, then why is it he is all alone on Hearts and Hooves Day? Could the legendary PlayColt actually has no idea how to talk to mares? In order to avoid the holiday dedicated to love, Soarin elects to spend the day at home to avoid it at all cost, the only problem is he has no pie left; leading him to Sweet Apple Acres to get the best pies in Equestria from no other but Applejack.
Happy Valentines Day to one and all! Breaking my tradition here this year, instead of a total MacDash story this year I am writing a SoarinJack! I love this ship and have been trying to write a story for so long about them, so I finally sat down and got to it. I love how it turned out and hope you all enjoy as well!
Thank you to Arbarano for all of his edits! So sorry it took me so long to write! Best editor awards goes to this guy!
Also a special thanks goes to The Masked Ferret , Aquaman, and Jake the Army Guy for listening to my random ideas and complaints.
Final thanks goes to Artistcoolpony for the cover art... now only if you did MacDash...
Non-Mature Feature Box: 2/16/17
Chapters (1)