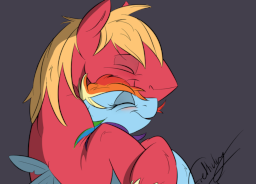 There are not many things that Rainbow Dash can't withstand. She can take on dragons and monsters all day long, but when it comes to the bitter cold she has met her match. In search of shelter from the cold, she ends up spending the night at the Apple's. But with Granny and Bloom in Appleosssa, and Applejack going to Manehatten in attempt to sell some apple goods, she ends up all alone with Big Mac.
What could possibly go wrong?
Submission to the MacDash Community contest. Not sure if I am following any of the rules, but MacDash.
Thank you to Arbarano and WolfGirl214 for all the edits!
Special thanks also goes to The Masked Ferret for the parts she helped write! Or actually did write...
Picture belongs to grethzy Its just so damn cute!
This is also a Christmas gift for Jake the Army Guy and KarmaDash. Wish I had time to write you both an individual story, but have a Merry Christmas, and enjoy so MacDash!
Featured 12/26/15
Chapters (1)