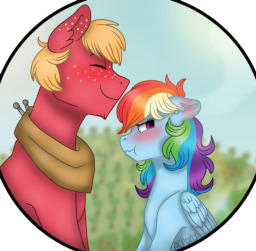 Source
Big Mac is a wise stallion. Growing up in a house full of mares he had learned that secret language that mares use. Though as good as he is, Rainbow Dash is not like any other mare out there; can he figure out her issue? Hot chocolate and snuggles always seem to help. Join Big Mac as he tries to get to the root of his fillyfriend's problem, or die trying.
Thank you to Arbarano for all the edits!
This is for CategoricalGrant's snuggle contest. I hope I do well, but it was a good challenge to help shake off the rust that has been covering my fingers.
Art belongs to the very talented ArtistCoolPony
Featured 12/1/17
Winner of the CategoricalGrant's snuggle contest.
Chapters (1)