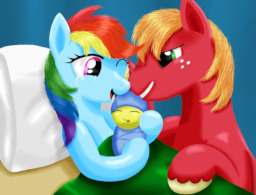 Source
Big Mac has always been seen as the one stallion in Ponyville that always seemed ready to be a father. He had raised A.J. and Bloom almost by himself, and always has time for the CMC. But is the large stallion ready to be a father? Mac himself doesn't know as he stares into the crib that holds his son. Is he ready to be a father? And if so, what kind of father could he be?
Thank you to Jszellmer as always for edits, and a thank you I never thought I would have the plesure of saying, but thank you Mr Bronius Maximus for his edits and suggestions, leanred a lot from you bro, and thank you for his and the permission of ROBBERGON of DeviantArt for this amazing picture!
And a super special thank you to CptBrony for the amazing moral support!
This is also a belated birthday gift to Jake the Army Guy since apparently it is illegal to try to break into Hub and make MacDash cannon.
Chapters (1)