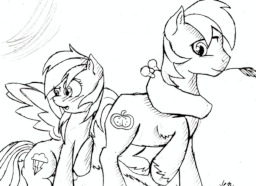 Source
It's Hearts and Hooves Day in Ponyville again and Rainbow Dash is alone again this year, but not from a lack of trying. She had set her sights on the non-talkative brother of her best friend? Will she find a way to get the Earth Pony's attention?
Many side pairings in this story not going to tag them all just yet but there is SoarinJack, PinkieCaramel, and of course MacDash. Please no flames and if you think you can help me improve please message me.
Thank you jszellmer for the edits, tomColt15 for the cover art, and KarmaDash for bouncing ideas around.
Chapters (7)