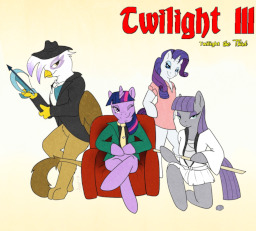 The most wanted mare in Equestria, Twilight Sparkle is the greatest thief in the world. As she follows in the hoofsteps of her grandmother, Twilight Twinkle, she's joined by friends and chased by family, all while trying to make a few bits!
An alternate universe fiction where Twilight Sparkle never entered Celestia's School for Gifted Unicorns. At least, not without a set of lockpicks. Gilda is her closest ally and friend, and a skilled marksman with her crossbow. And of course there's Rarity Belle, who can wrap Twilight around her hoof with a wink and a smile - and usually picks her pockets in the process. With friends like these, Twilight keeps one step ahead of Shining Armor and tries to get her hooves on all the bits she can carry.
____________________
Special shoutout to Ampris for the cover image. Check her out on twitter at @AmpDragoness - careful, some of her art is NSFW.
Chapters (22)