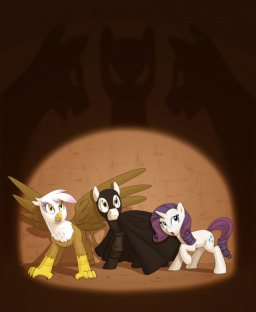 For decades, the tales of heroes and capes have captured the minds of young children across Equestria. Stories of villainy most foul and the brave ponies who stopped at nothing to secure freedom and justice. It has been 20 years since a new story has been told, and as the young and brash Silver Spade is about to learn, some heroes are born through fire.
Follow this tale of conspiracy and corruption, of perseverance and dignity, as the forces lurking in Canterlot's shadow are revealed and the battle is fought for one stallion's vengeance.
-----------------------------------------
Welcome to The Ghost of Coltistrano. As a little context to this story, it's something of a love letter to the age of old pulp heroes like Zorro, Lone Ranger, the Shadow, etc.. I really wanted to try my hand at both writing a novel and setting up a world where these sort of pulp themes intertwine with the MLP show itself. As you read, you may find hints and easter eggs to other properties, all of which are intentional, and are meant to pay homage to the many sources of inspiration this story has. +5 points to anyone who finds them all

Depending on the turnout of this story it may be turned into a full-fledged series, including short stories and larger installments later on down the road. So please, enjoy. Check out the sequel!
Cover art by the ever-talented Siansaar!
Chapters (23)