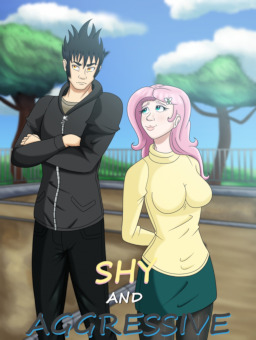 Source
It was just another day in school for Fluttershy in Ponyville High. Conflict is brewing between two races, The Humans and The Trans-mutants, tensions are high, and prejudice to one another is rising higher than before. To make matters more tense, some of the Trans-mutants are being allowed to walk among them as well as attending the same schools. Fluttershy will cross boundaries that few would dare cross.....Making friends with one.
(A Humanized crossover fan fiction of Godzilla and MLP FIM. If you are familiar with "The Arrogance of Man" (http://www.fimfiction.net/story/220838/the-arrogance-of-man), then be aware that this is an alternate universe for the story). Sex tag is mostly for dialogue that may be deemed dirty at certain points, and intimacy. No sex scenes, keep this in mind. Cover art is by me, and props goes to Moongaze14 and ThePMB-Brony for proofreading this story. Thanks again guys!
Breaking the Walls Arc: In a world of humans and mutants, Fluttershy befriends a boy, Gojira Takeshi Jr, who has a gruff and pessimistic attitude, with a reputation to boot. Sometimes, it takes kindness to uncover what's beneath the surface. (Chapter 1-15)
Sins of the Father Arc: With his father back in his life, Junior finds himself caught up in situations that turn his entire world upside down. In comes new friends, and new revelations. From the shadows, enemies plot to bring chaos. And somehow, the Takeshi lineage is at the center of it. (Chapter 16-72).
Chapters (94)