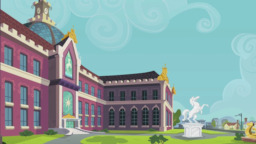 Source
One month ago Silver Spark started school at Canterlot High after moving to get away from his past and recover from his loss. This plan hasn't gone very well so far; it's almost as if someone is actively trying to ruin his life. Friendless and avoided by the bulk student body, he is an ideal target for bullies. The Fall Formal is coming soon and Silver might just find a place for a proper new beginning.
Still, ignoring the past doesn't make it go away. It has a habit of popping back up in the strangest ways.
Rewrite Status - 2017-09-05: Chapter 1 - 8 Completed. Any re-written chapters will be marked with (R). Please note the rewrites will not substantially change the plot and are not required reading to understand future chapters.
*Rated Teen for themes of depression and self-harm, some violence, occasional swearing, implied or slightly overt sexuality and probably some other inappropriate things that you could expect to hear in high school.
Note: This is a re-telling/writing of the Equestria Girls storyline starting at the very beginning but primarily from the perspective of a new character. If you are curious what Silver Spark looks like, you can see a picture of him here here.
Warning! There are potential spoilers in the comments!
Chapters (49)