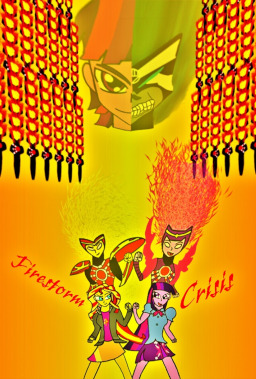 Source
Sunset Shimmer, the terror of Canterlot High, and former protégé of Princess Celestia, and Twilight Sparkle, a recently transferred girl who has won the hearts of the students and reunited five friends. One struggles against her loathing, while the other seeks to help, both have no idea how their lives are about to change, and how much they well come to rely on each other.
A group simply known as the Organization seeks to create an arms race, using a powerful weapon known as the Firestorm Protocols, but when Twilight and Sunset find one of the protocols, can they come together to stop the Organization's plans? Secrets are revealed, allegiances are tested, and the fate of the world hangs in the balance, the Firestorm Crisis has begun...!
Note: This takes place in an Alt. Universe after the events of the Fall Formal and a little before Rainbow Rocks. Pony!Twilight never arrived to EQG world and CHS, but Human!Twilight did.
Popular Stories: 2/03/15
Chapters (46)