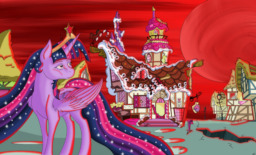 Twilight has been alone for a long time. She's not sure how long anymore, but the color of the sun is giving her some ideas.
Twilight stopped dreaming a long time ago, but she is now plagued by visions. Visions of the past. Visions of the worst moments of her life.
Twilight is feeling really annoyed right now.
Edited by the amazing NameGoesHere.
Reading by S Ninja
Partially inspired by It's Such a Beautiful Day by Don Hertzfeldt, if only because it put me in the mental state to write this.
Chapters (3)