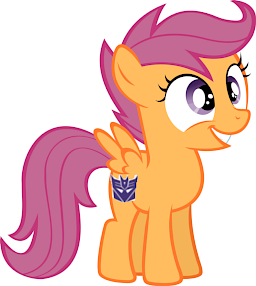 This story is a sequel to Swooty Bell Adventures Part 2: The Legend of Twix Bar
---
Swooty Bell is in for it this time! Her nemesis Mr.McMeany has returned, and this time he has teamed up with Megatron!
So ok yeah it's time for Swooty Bell, Twilight Purple, Twix Bar, and introducing Spine the Penguin, to fight back against these robotic invaders!
Swooty Bell will fight the evils of Megatron! She will face McMeany in an epic showdown! She WON'T learn McMeanys secret plan!
Hang on because this is going to be a crazy ride!
(Please note that Spelling and grammar mistakes are intentional, for this is the universe of Swooty Bell!)
Chapters (5)