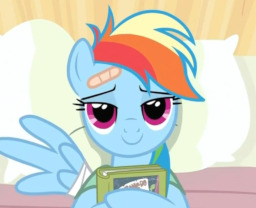 Source
What starts as a boring afternoon in Twilight's library soon spirals out of control once Twilight introduces Rainbow Dash to the wide world of Daring Do fanfiction.
Inspired by this revelation, Rainbow Dash takes it upon herself to write the BEST FANFICTIONS EVAR. It can't be that hard, right? All she needs is an idea, a typewriter, and a whole lot of coffee!
It should be noted that "an editor" is not on Rainbow Dash's list.
Chapters (3)