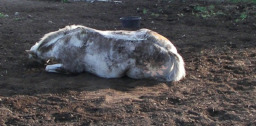 Celestia is trapped on Earth.
Not as a human. Not as an alicorn. She's a common horse, an Arabian mare, without her magic, voice, knowledge of the language - not even freedom, forced to work at a riding school.
What can a single Arabian mare do to get back to Equestria from this backwater European country? With only the mind of a princess and a pencil in her teeth, Celestia must find a way home.
---
[Illustrated] [Alternate Earth] (without Bronies)
Rated Teen for language and some scarce suggestive themes.
Proofreading by AlicornPriest
---
Chapters (9)