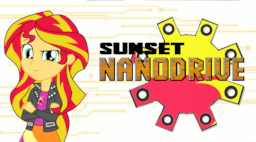 Twenty-five moons ago, an accident unleashed billions of nanoscopic machines called Nanites, which spread to every corner of the globe and infected every living thing.
Most of the Nanites are inactive. A lot of them aren't.
When Nanites go active, their host organisms mutate unpredictably, becoming dangerous creatures called EVOs. Some EVOs have control over their powers. Some remain intelligent. Some even just want to be left alone.
Some have more sinister goals.
And then there's the outsider. One teenage girl who is, in reality, a unicorn exiled from another dimension. Having turned her back on Equestria and fled through the mirror at almost the exact same time as the Event, Sunset Shimmer has become the most extraordinary, unusual EVO of all...
...and she has the power to cure EVOs.
But will a self-centered, power-hungry, arrogant former unicorn really save a human race she doesn't care anything about?
Adapted from Generator Rex by Man of Action.
(Cover art is temporary; permanent cover art coming later...)
Chapters (2)