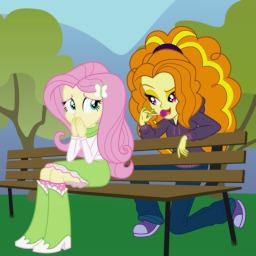 Source
Quiet mornings before school starts can be lonely, but peaceful. For some people, they're a good time to just breathe and prepare themselves for the day ahead. Fluttershy and Adagio Dazzle find themselves doing this in the same place at the same time, in their own ways.
Based on a picture that was a little too big to be the cover art, but cute enough to inspire some shipping anyway.

Now comes with actual cover art courtesy of SkycatcherEquestria!
Comments may contain spoilers!
Chapters (59)