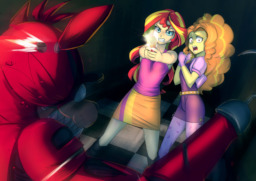 Source
Things have been a little rough for the trio that once got everything they needed by brain-washing people. Talking on the phone with Rarity one night, Sunset hears the latest gossip on the once-feared singers, learning that Adagio Dazzle is working a job that may cost her her life.
Her first shift starts tonight.
---
Story inspired by the cover pic! Any understanding whatsoever of Five Nights at Freddy's not required.
Part of an ongoing series.
>You Are Here
>Fluff and Kidnapping
>Dazzle Robs a Bank
>Fluffy Fever
>Dungeons and Dazzles
Chapters (3)