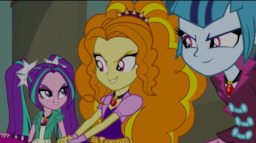 After a rather weird, yet awkward moment in the cafeteria of Canterlot High, you find yourself having a series of strange encounters with the same group of three girls who've taken a somewhat obsessive interest in you.
---
Chapters marked "Original" will remain up, but are no longer considered canon to the series.
---
This story was inspired by "Going Somewhere...?", a very well-written and just plain awesome story written by trevordark. If you haven't read it yet, take a look.
Chapters (6)