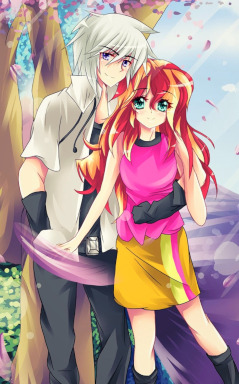 Soul Writer moves to a new town with his mom while his dad is still in service in the old town they were in and becomes part of the Canterlot High family. He'll be able to make new friends and have the fondest of memories. But right now he faces his biggest challenge: Does he have a crush on Sunset?
.
.
.
Yes, yes he does.
Follow Soul and Sunset as they begin to have feelings for one another while they face life together.

Inspired by three wonderful authors and their stories.
The Pie of my Eye by Azure_Shadow
Amor Fati by BRyeMC
And Come Out of Your Shell by CogWing
Their OC characters are part of the story and they respectively belong to their individual creators.
Cover made by kiriche
Chapters (27)