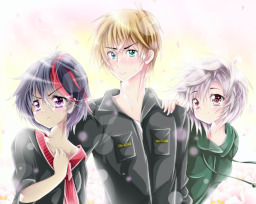 This story is a sequel to The Sun of My Heart 2: Love's Flames
---
Blaze Writer. Son of Sunset Shimmer and Soul Writer. Scarred by an event that had happened to him during his first year of high school, he slowly heals as he starts to rekindle with his friends. And he will be caught up in events that will make two girls want to be closer to him.
Sunday Writer. Daughter of Sunset Shimmer and Soul Writer. Having a huge crush on her childhood friend, she is determined to make this boy fall in love with her and do whatever it takes to be with him. While she is not the main focus of the story, that would not stop her from being with the one she loves the most.
Will Blaze be able to heal from his old wounds? Can Sunday be able to win the heart of the one she loves? And will one of the girls be able to be with Blaze in the end?
.
.
.
Possibly.
Follow Blaze and Sunday on their adventures with their friends on this romantic comedy as the universe goes against them. But hopefully its not.....
It is.
A continuation to the ever beloved series of Sun of My Heart and Sun of My Heart 2: Love's Flames.
The cover has been done by the ever lovely, kiriche
Chapters (24)