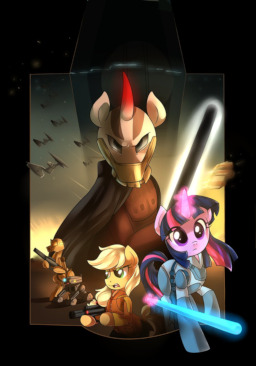 Source
A long time ago, in a galaxy far far away….
A thousand years of peace has ruled over the galaxy and all ponykind continued to live happily under the protective eyes of Grandmaster Celestia and her faithful servants of the light, the Solar Knights. But now a dark empire has come upon the galaxy and spreading chaos and misery across worlds and vast civilizations.
Now all hope lies with Garret, a scout who has an incredible gift within himself, Twilight Sparkle, the apprentice of Grandmaster Celestia and a gifted unicorn with tremendous power, Applejack Onasi, an experience veteran of the Republic and a mare with a mysterious past, and their loyal friends and companions as they go find the enemies' true power and return peace and harmony in the galaxy.
---
Additional characters will be listed here as the story progresses.
---
Inspired by OmegaPony11 and his work Pony Age: Origins
Thanks to Eldorado! for approving this awesome story.
Editing are done by rhinotaz and That1Brony3
Proofreading is done by Higherbeach
Art cover made by XNightMelody
Chapters (21)