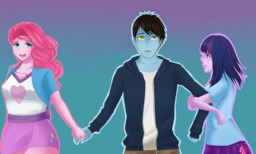 Source
Swift Justice has a good life in Canterlot High, he has decent friends, good grades, and a crush on a certain pink haired president of the party planning committee. He wants to ask her out, but things get complicated when a new student enrolls and Pinkie tries to set Swift up with her! Will Swift be able to get the girl without completely embarrassing himself? Probably not.
*A series that's set in Canterlot High after the events of Equestria Girls.
*Thanks to CogWing for the title, cover art, editing, and basically being the co-author at this point! You rock Cog!
*Swift Justice is my OC, pls ask if you wanna use him for something.
*Don't let the character tags fool you, there's no Flashlight.
Chapters (23)