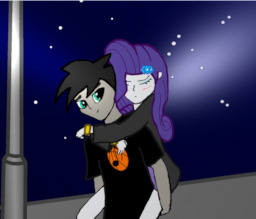 Source
Amor Fati is a Latin phrase loosely translating to "love of fate" or "love of one's fate". It is used to describe an attitude in which one sees everything that happens in one's life, including suffering and loss, as good.
Having only joining the Canterlot High Wondercolts family for not even a week, Clyde finds himself in Saturday morning detention. Maybe it was fate, but he soon gains a best friend, a squad of goons to hang out with, a rival who holds a grudge on him, and the growing relationship with a certain girl.
As the year progresses, he learns two things: fate is something that never escapes him and there's someone he loves more than it.
---
Story is set before, during, and after Equestria Girls. Also, story ends before Rainbow Rocks.
Thanks to the fabulous CogWing for the cover art. Now with more chic!
Thanks to the awesome Azure_Shadow and his story, The Pie of My Eye, for minor behind the scenes help and inspiration for writing an EG story myself, respectively.
Chapters (16)