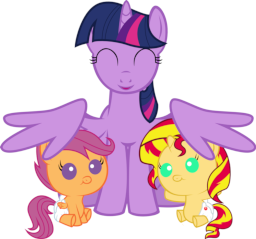 When Sunset Shimmer wakes up in a strange forest she doesn't recognize after seeing another her at her new school Canterlot High and finds she is now a pony, she doesn't know what's going on.
what's more, when she eats some glowing fruit because she's starving, it takes a strange turn she could have never expected.
And scootaloo, after running away from the orphanage, gets a second shot at life.
new cover art provided by Princess Glitzy, who you can find HERE and this plus her other wonderful works you can find HERE
Featured 27/10/2019. Fitting it get featured during it's final udapte. A kind swan song. thank you all
Chapters (25)