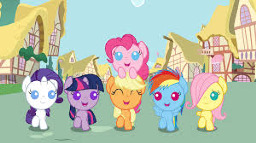 This story is a side prequel to Little Jewels. (Read that one first.)
http://www.fimfiction.net/story/155509/little-jewels
When Twilight is given a new spell to practice, she asks her friends to bring some aged stuff for target practice. But when the spell gets out of hand, it turns all of the Mane 6 into foals. They still retain the ability to talk though. What else comes as a surprise is that their new Mamas are Celestia and Luna. I can see things looking up from here.
WARNING!!! THIS IS A FAIR WARNING THAT YOU SHOULD LISTEN TO THIS TIME!!!!! This fic contains Age Regression, Diapers, Breastfeeding, and a slew of other foalish things. Please consult a doctor before consuming this fanfic. Do not read if you cannot stand cuteness and baby ponies. Don't try to imitate the events of this fic at home.
I MEAN IT THIS TIME!!!
Chapters (14)