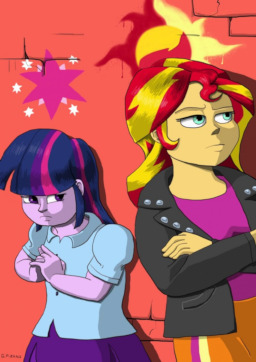 Source
Sunset Shimmer is a young mare who strives for power and doesn't care about anyone but herself.
Twilight Sparkle is a little filly with more scars than she lets on.
Now both of them have to make do, stuck in a world where their greatest talents are little more than a pretty mark on their clothes.
Cover art commissioned from GPizano, who draws a pretty awesome Sunset Shimmer.
Top of the Feature Box on 15/06/17, and an incredible 91:0 upvotes. Thank you all for your help in making that possible.
Chapters (4)