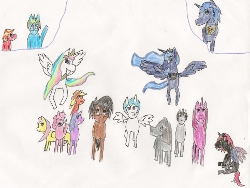 Source
FAQ for this story: FiM Fic version and GDoc version (constantly updated and edited)
The Wandering Physicist is a mysterious traveller who just arrived in Ponyville. After establishing himself in the video game shop, he begins his encounters with the denizens of Ponyville. This sets off many ongoing adventures with his new friends. With a constant stream of visitors from around Equestria, friendship, family, twists and turns and legions of nerds are on the horizon.
Setting: Approximately a year after the end of the series.
Character References: On tumblr - On Deviant Art - Warning: Contains spoilers and peanut products.
To new readers: These were written as an ongoing serial. The individual story does not necessarily carry chapter to chapter, but the continuing story and events carry over. Feel free to skip around the chapters without losing too much continuity. If you do not wish to start at the beginning, Crossroads is a good starting location as it lays down the groundwork most of what follow.
As this was a serial, there is a cast list at the top of each chapter allowing the you to read only those with characters you are interested in. The main characters listed are those that appear in the majority of the chapters.
Arcs:
TWP vs the World: The Game Arc - A Trixie Situation to Final Boss - Trixie is on the run from some nasty elements in her family. Ponyville is placed in gaming illusions to force TWP to turn Trixie over.
The Physicist's Wife Arc - The Physicist's Wife to Confessions - Fluttershy gets injured and thinks she is married to The Wandering Physicist. She spends a month living with her love, but what do her friends think of the new Mrs Wanderer?
Adventures in Neighpon - Turning Neighponese to Tomodachi Sketch - The Wandering Physicists takes his friends on a trip to Neighpon. A series of interconnected adventures take place leading to love, fortune, action and a giant alicorn plushie.
Prequel to The Master Game
Prequel to Starlight Chronicles
Chapters (100)