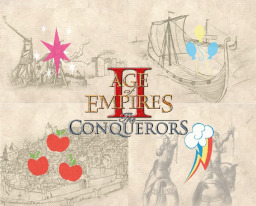 Source
It's been a couple of weeks and way more than a couple of games since Pinkie Pie introduced the Mane Six to the joys of playing the classic real-time strategy title, Age of Empires II. Unanswered questions surround this mysterious game: where did it come from? Who made it? Why is there so much killing?
Never mind all that - Twilight Sparkle and her friends have a game to play!
NOTE: Though I've tried to make the story more about the relationships between the four gamers (no Rarity or Fluttershy, sorry!) than about the game itself, some rudimentary knowledge about Age of Empires II is required if you want to understand what is going on. I wrote this as a short-ish story so I'm not really going to go into technical details much.
=====INFO AFTER BREAK=====
References consulted while writing story:
ZeroEmpires (Commentary on Competitive AoE II matches)
wikiHow (5 Ways to Make Your Economy Boom in Age of Empires II)
Wikipedia (for info on Byzantines, Moon & Vikings)
Luttwak, E. "The Grand Strategy of the Byzantine Empire" (Harvard University Press, USA), 2009 (Byzantine military strategy)
Youtube links:
Prologue - PakAttack95 (Youtube Channel)
Main Menu and Victory Music - mikec1000 Civilization Themes
Cover Image:
Wikipedia
Age of Empires II
Cutie Mark Vectors by Hawk9mm (deviantART page)
Chapters (7)