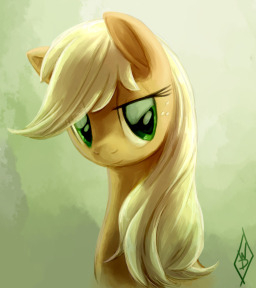 Twilight Sparkle is called upon to negotiate trade arrangements with the griffons. Of course, all her friends join her for what should be a casual pleasure cruise in the airship Canvas Streak. After all, this is her first REAL test as a princess, and why shouldn't they support her?
Late one night, though, Applejack feels restless and goes up on deck to watch the stars. She considers her life. She considers her family. She considers her friends. She considers the freak storm approaching from the south.
In retrospect, it might have been better to let the crew handle that and head back below deck.
Now alone on a small island, Applejack must survive and wait for her friends to come pick her up... even though the freak storm is blocking them off. Surviving's easy. Waiting's easy too! She can do this.
....she can do this....
Image by WhiteDiamondsLtd.
Chapters (30)