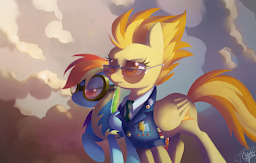 Source
Dash gets what she always wanted: a spot in the Wonderbolts and Spitfire by her side. Their relationship is all speed, all adrenaline, all passion, and absolutely, positively doomed.
A trainwreck of a romance in an ongoing series of slice-of-life snapshots, clop-free.
Restraint, or Lack Thereof - Spitfire knows what she wants, knows how to get it, and knows exactly how wrong this could all go.
Day In, Day Out - Soarin needs to know why Spitfire's been distracted and out of sorts lately, and there's a good chance he already knows the answer.
Been a While - Spitfire isn't the only one in this relationship who's been nursing a crush on her idol for years. Difference is, Dash has been doing something about it.
Burden - It isn't easy being a hero, especially if you're not the hero you thought you'd be.
Forgive and Forget- Dash makes a terrible mistake. Making it won't get her in trouble; trying to fix it could be disastrous.
Wings - Sometimes you get your dreams handed to you on a silver platter. Sometimes that's the last thing you want.
Touchdown and Takeoff - Somepony's gotta put out fires for the Wonderbolts before the team implodes, and Soarin' just drew the short straw.
Shattered - Spitfire is royally ticked off at Rainbow, and RD has no idea why.
Unscheduled - Spitfire gives the Wonderbolts the week off only to find that Dash left a few things unfinished.
What Has Been Seen - The Wonderbolts are taking bets on Spitfire and Dash self-destructing, and Soarin' just wants a nap.
Now featuring beautiful new cover art courtesy of Celebi-Yoshi!
These stories are in continuity with Luna's Librarian and The Rustic & The Romantic.
All chapters originally written as separate entries for flash-fic blog Thirty Minute Pony Stories (TMP). I highly recommend a visit to TMP if you're looking for some of the best 1000-word gems in pony fiction. Many thanks to TMP for inspiring me to write!
Chapters (10)