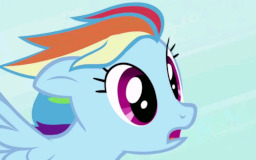 Source
Rainbow Dash learns responsibility the hard way after one night with Soarin' changes her life forever.
An ongoing series of slice-of-life snapshots, family friendly - or rather, clop-free.
Velocity - Rainbow Dash is never late. Today she's very late, in a way she never expected.
Home Away - Dash takes flight with the one pony who means means more to her than any other.
Skywriting - Sometimes you just can't speak all the words you need to say, and a letter is all you can manage.
We Few, We Happy Few - Don't ever tell this filly what she can and can't be.
Somewhere to Be - A storm rolls out of the Everfree on Dash's day off. She's got a game to get to, and there's no way this'll slow her down!
All chapters originally written as separate entries for flash-fic blog Thirty Minute Ponies (TMP). I highly recommend a visit to TMP if you're looking for some of the best 1000-word gems in pony fiction. Many thanks to TMP for inspiring me to write!
NOTE: Not related to the Luna's Librarian / Rustic & Romantic / If the Flight Suit Fits continuity. Originally this was an Alternate Universe fork from Egghead and Featherbrain, but is now a separate story entirely.
Chapters (5)