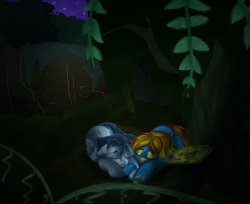 In the middle of the Everfree forest, Soarin saves Spitfire from the brink of death after she was attacked by a Manticore. However, their horrifying ordeal is far from over when they realize that they have no clue how to find their way out of the forest. How they find a way to survive in such a hostile environment, while being injured and lost?
Commissioned artwork by: Sightlessbutterfly on Deviantart.com : http://sightlessbutterfly.deviantart.com/
Please check her Deviantart page out, she deserves more views!
Chapters (8)