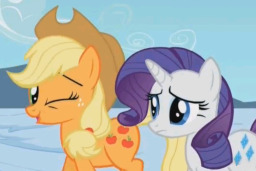 Source
What brought Rarity and Applejack together, nopony knows, but you can bet your last barrel of cider that nothing this side of Discord could separate them.
An ongoing series of slice-of-life snapshots. This barn here'll be clop-free, y'all got it?
These stories are in continuity with Luna's Librarian and If the Flight Suit Fits.
All chapters originally written as separate entries for flash-fic blog Thirty Minute Ponies (TMP). Many thanks to TMP for inspiring me to write!
Lift Carefully - Applejack and Rarity hatch a plan to 'help' Twilight by stealing her journal. What they discover is more than they bargained for.
Among the Hills a Winding Way - Confused about her feelings for Rarity, Applejack seeks comfort from her apple trees, who are eager to listen.
Torn - Rarity finds a philosophical Applejack irresistible and finally makes her move. Will an old hat be the only thing torn by night's end?
Drama-Induced Audience Apathy - Rarity thinks angsty drama will spice up their love life. Applejack is a bit more practical.
Ejection - Twilight and friends are determined to see Applejack and Rarity separated. How will the lovers cope?
Not Again - Applejack isn't feeling like herself. Can her marefriend Rarity help straighten her out?
The Honorable Thing - One more disappointment for Applejack might be one too many.
The Best and the Worst - Rarity's having problems with her work and her magic - nothing that an attentive and perceptive marefriend can't help with.
Crossed in the Mail - Letters bearing bad news can make a mare say things she might regret. Sometimes it's hard to remember that we don't have to endure life's troubles alone.
Tickets - With Mac gone to Appleloosa and Granny needing ever more care, the pressure mounts as AJ is left to fend for herself. A certain dressmaker's attention to detail may come handy.
Calendar - Some dates are more worth remembering than others.
Suddenly There Came A Tapping - The Cutie Mark Crusaders are on the run, forced to flee, and about to learn something that hopefully won't earn them cutie marks.
A Meditation Upon the Day's Toils, or, 'Bark' - Who's a good little dog? You're a good dog, Winona! Yes you are!
Slow and Steady - Big Mac notices a whole lot more than he lets on.
Tailoring the Conversation - Oh, what wisdom from the mouths of fillies! Especially the ones who've been peeking in the barn at really inconvenient times.
The Quiet Revelations - Applejack has a nice quiet sit on the front porch to think a few things over. Maybe a little too quiet - or maybe it's just right after all.
Answers Above - Rarity has something to ask; for other ponies this would be a formality, but for her, it will be out of this world.
Happily Ever After, Checklist Never Ending, Part 1 and Part 2 - With Twilight Sparkle as your wedding planner, you're in good hooves. Right?
Winter by the Pond - There's something Applejack hasn't been able to ask, and isn't sure if any living pony can make it easier for her.
Diminished Distance - Headed for their honeymoon, Rarity and Applejack find there are still things to learn about each other - things they'll wish they could forget.
Facing Worlds - Rarity said some things she shouldn't have at the latest Apple family reunion.
Subtle Like a Hurricane - A lady never begs, especially when public displays of affection are at stake.
Chapters (23)