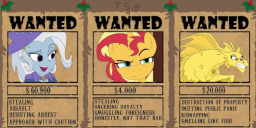 It'll be the first Christmas for Sunset, Trixie, and Adagio, and each of them want to commemorate the event by giving the best gift possible to their partners. Nothing will stand in their way to their objective. Not even the law.
sex warning if for suggestive themes
Written for the many times amazing Dewdrops on the Grass as part of Hearthswriting 2021.
Original prompt:
Sunset, Adagio, and Trixie on a holiday date when shenanigans ensue, and they get into some kind of magical trouble involving Hearth's Warming presents.
As always, I kind of went my own way with it.
Thank you to Bicyclette, and daOtterGuy for prereading.
Happy Holiday!
Chapters (1)