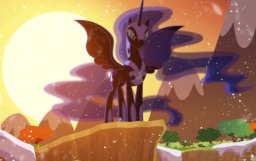 Source
A human joins the Summer Sun Celebration in Ponyville during Nightmare Moon's return. He thinks he's going to regret it. He's probably right.
A three part silly short, reboot of the "Hands" universe but doesn't require prior knowledge of that fic. Just for fun.
EDIT: Featured from 12/15/2019 to 12/21/2019.
Chapters (4)